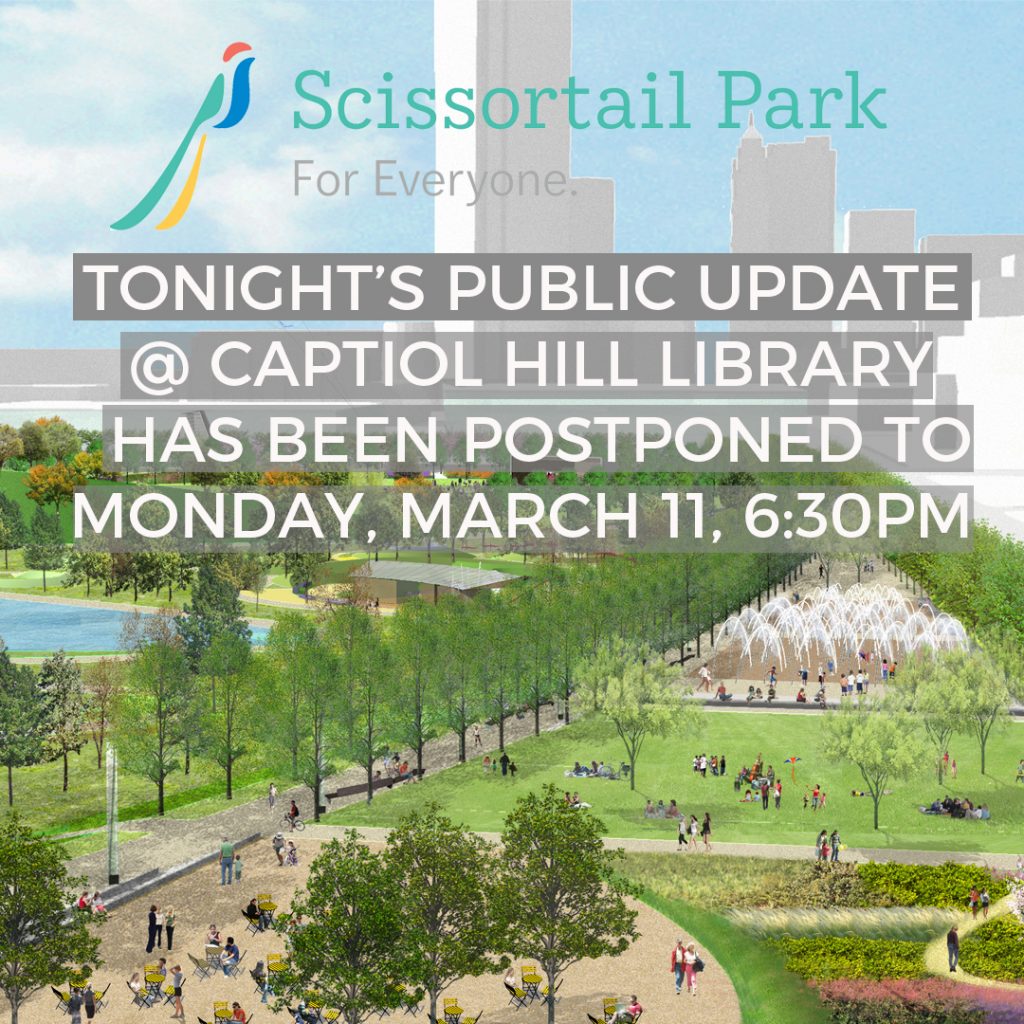 Scissortail Park Public Update Meeting POSTEDPONED DUE TO WEATHER

Monday, March 11, 6:30 – 8:30 PM
Capitol Hill Public Library 327 SW 27th St, Oklahoma City, OK 73109
The Scissortail Park Foundation will host an open forum to update the public on the construction progress of the MAPS 3 Scissortail Park leading up to the opening in the fall of 2019.   The Scissortail Park Foundation, a 501 c 3 nonprofit, will be managing the new park once the MAPS 3 construction team has completed work later this year. The presentation will be given by Maureen Heffernan, CEO/President of Myriad Botanical Foundation and Scissortail Park Foundation.  It will include details on the many unique features in the north and south sections of The Park, public transportation and parking, the Café operation, an overview of plans for the grand opening celebration this fall and a question and answer session.
The Scissortail Park Foundation is especially interested in getting feedback and suggestions from the public on everything from what kind of programming they would like to see featured in the Park and any ideas to include in the Grand Opening celebrations.
The event will now be Monday, March 11, from 6:30 – 8:30 PM. Join us for refreshments and a snack at 6:30 PM, the presentation will begin at 7:00 PM and the Q&A is at 8:00 PM. at the Capitol Hill Public Library. While the event is free and open to the public, space is limited. Please RSVP at 405.445-7080 or online at https://84385.blackbaudhosting.com/84385/Scissortail-Park-Public-Update
Scissortail Park is a 70-acre urban oasis extending from the core of downtown Oklahoma City and near to the shore of the Oklahoma River. The 36-acre north section will open in 2019; the 34-acre south section scheduled for completion in 2021.