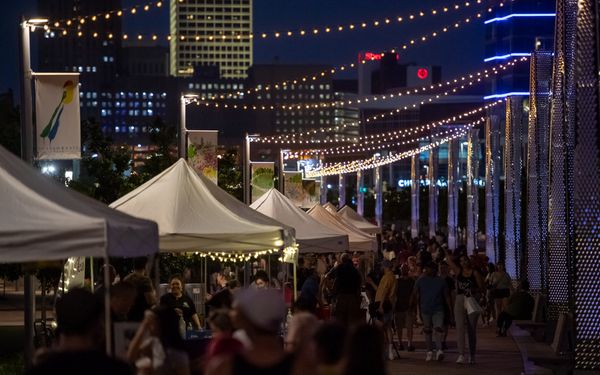 April Night Market
Friday, April 21 | 5:30 – 10pm
The Promenade, Upper Park
Enjoy shopping from some of Oklahoma's best local businesses and artisan vendors at Scissortail Park.
Home decor, gifts, specialty food, art, bath and body products, fashion, and plants are a few of the things you will find at our April Night Market.
The night will be filled with live stage performances as well as plenty of food from local food trucks.
APRIL NIGHT MARKET VENDORS
10th St Sneaks
A Wilde Collective
Advbelle Arts
Alyssa Briggs Ceramics
Andrew Leyland Photography
Anthem Brewing
Artesandina
ASANTE_coffee
Bella Vida Boutique
Bookish: Used Books and Art
Britten & Bailey's
Chaperus_Home
Chichi and Zinny's Goodie Butter
Cuttingedge Puzzles
De La Tierra Mia
Dear Reverie, LLC
Eeverbecrystals
Everlasting Links Personalized Jewelry
Fryda's Art Souls
GakiVerse
Goge Skate
GimmeSugar
Glassy Girls
Good Earth Rocks Gallery
Hank's Salsa Company
Highway Haven Boutique
Kettle Popstars
L and B Creations
Lay's World Children's Boutique
Lindsey La Valle Art
Luna Mae Boutique
Madi.Lyn + Co.
Modern Collective
MoistYour
MoonGlow Maven
Nourished Roots Co
Plant Wisdom Garden Center
Queens Cup Design Co.
Random Collectives
Redbud Tea & Apothecary
Rock Creek Distillery
Skydance Brewing Co.
Solid Cup Coffee
Stonecloud Brewing Company
Sweet Coco Clay Co
SweetArt FacePaint & More
Tamale King
Texas Monkey Business
Thad Wear
The Plant Dudes
ThreadGood Clothing Company
Uptown Jerky Co.
Wild Bergamot
Wondervan Pops