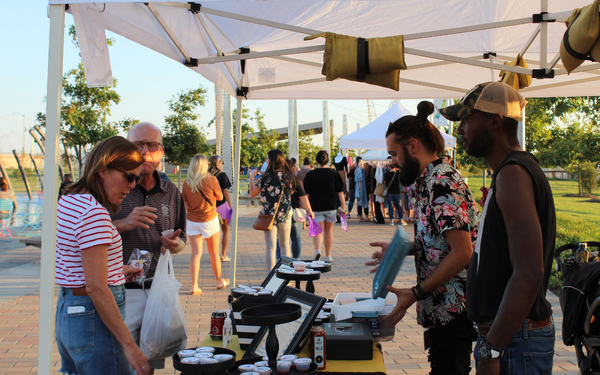 June Night Market
Friday, June 9 | 5:30 – 10pm
The Promenade, Upper Park
The night is packed with FUN and shopping!
Support over 50 local artisans, shops, and entrepreneurs during this month's Night Market.
Enjoy live music on the Love's Travel Stops Stage, & grab a bite from one of our food trucks or at SPARK at the Park.

Don't miss DJ LaLo spinning live at the Sky Rink on Friday, June 9 from 6-9pm. Roller skate during our BONUS Pop-Up Skate Night! Admission is $8 (includes quad skate rentals.)
Scissortail Park Members skate FREE!
Learn to play Bocce Ball at our new courts near SPARK at the Park from 5:30-8:30pm. We have the equipment and an instructor, so you can just stop by to try it out for FREE!
LIVE ENTERTAINMENT
Love's Travel Stops Stage
5:30-7pm | Madeline Foster
8-9:30pm | Don't Tell Dena
Sky Rink Roller Skating Rink
6-9pm | DJ LaLo

JUNE VENDORS
Located on The Promenade, Upper Park
10th St. Sneaks
1983
46th Candle Company
Anthem Brewing
Artesandina
Bella Vida Boutique
Bookish
Britten & Bailey's
Car'Eli
Chaperus
City and Stars
Cosmic Flora Crystal Co.
Dear Reverie
De la Tierra Mia
Dragons Hoard Prints
Eternal Roots Boutique
Everlasting Links Jewelry
Fryda's Art Souls
Gimme Sugar
Glassy Girls
Hanks Salsa Company
Heavenly Kernels
Highway Haven Boutique
Homemade with Loveless
Jax Snax OK
Ji Craft
Mex Arts
Moist Your
Mollycoddled Hash Slinger
Nalu Art & Design
NASH Engineered Fashion
Nourished Roots
Okie Wood and Leather
Plant Wisdom Greenhouses
Pup Town
Queens Cup Apparel
Random Collectives
Redbud Tea & Apothecary
Rock Creek Distillery
Skydance Brewing Co.
Solid Cup Coffee
Southernfried Vintage
SweetArt FacePaint
Sweets by Karen
Tamale King
That's Me!
That's Mrs. Laser To You
The Plant Dudes
Upper Echelon Socks
Uptown Jerky Co.
Wild Bergamot
Wildhorse Canyon Farms Winery
Wondervan Pops

FOOD TRUCKS
Located along S. Robinson Avenue
BlueJ's Rollin' Grill
Kona Ice Moore
Let's Do Greek
Oh Sugar Honey Iced Tea
Monkey Food Truck
OhMyGogi
Rolling Café Concessions
Tasty Snow
The Drunk Goat
The Pizza Spot
Hawaiian Snow (Lower Park)

SPARK is open Friday, June 9 from 11am–10pm.
Please be advised that we are not accepting any additional vendor applications for June. We will release an application link in the coming weeks for our fall Night Market scheduled for September. Stay tuned to @scissortailpark on Facebook, Instagram and Twitter for more information.