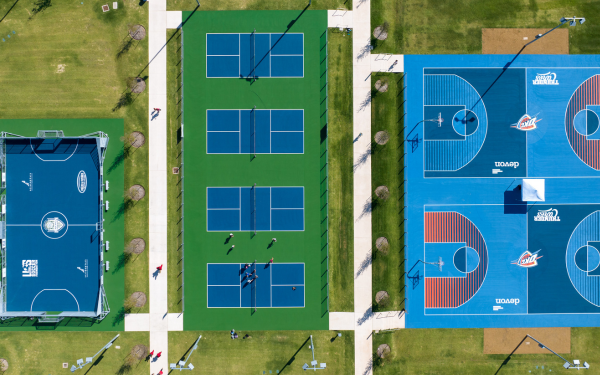 Move Your ScissorTAIL BLOCK PARTY
Saturday, September 16 | 11am – 4pm
Sports Courts, Lower Park
Join us for our inaugural Move Your ScissorTAIL BLOCK PARTY in Scissortail's Lower Park this September!
Free fitness classes including Yoga, Zumba, and Rumble Boxing happening every hour at the Sports Pavilion.
Basketball, Pickleball, and Futsal courts filled with instructors leading simple games for prizes.
Plus, DJs spinning tunes while you enjoy food trucks and breweries at the best party on the block!
SCHEDULE
The Promenade, Lower Park
11am – 4pm | Wellness Fair
11am – 4pm | Low Rider Car Show
11am – 4pm | DJs
WELLNESS CLASSES
Sports Pavilion, Lower Park
11am | Rumble Boxing
Sign up HERE
12pm | Zumba with Emily Otero
(The 9am Saturday Zumba class has been moved and rescheduled to 12pm)
1pm | Yoga
2pm | TriFit Mobile Gym
KID ZONE
Soccer Field, Lower Park
11am – 4pm | Inflatables
11am – 4pm | Facepainter
2pm | KidStrong Kids Workout
SPORTS COURTS
Pickleball Courts sponsored by E.L. & Thelma Gaylord Foundation
11am | Pickleball Lessons
1pm | Pickleball Lessons
3pm | Pickleball Lessons
Thunder Community Court presented by Devon
12pm | Basketball Contest
2pm | Basketball Contest
VENDORS
The Promenade, Lower Park
Natural Grocers
Uptown Jerky Co.
NAMI Oklahoma
EmVenio Research
KidStrong
Latino Community Development Agency
OK Juice Jam
Goge Skate Extreme Sports
LifeTime Fitness
Permanent Jewelry 405
Melt Massage Therapy
10th St Sneaks
Focus Chiropractic North
Skydance Brewing Co.
Sponsored by Oklahoma City Community Foundation OKCGetsFit, OU Health Stephenson Cancer Center, Mercy, SSM Health St. Anthony Hospital, First United Bank, and INTEGRIS Health Community Giving Fund.