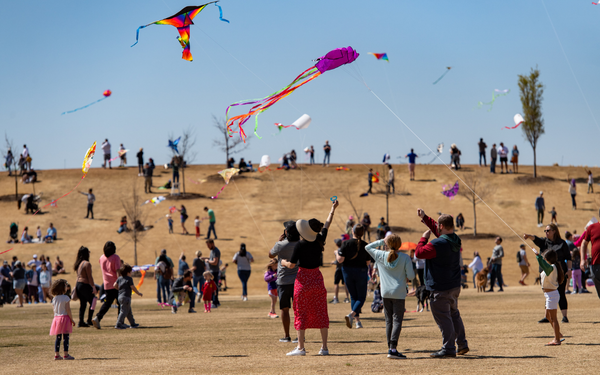 Oklahoma Wind Festival
Saturday, April 15 | 10am – 2pm
Love's Travel Stops Great Lawn
Windy days create great energy to power kites, paper airplanes, pinwheels, wind chimes, and more!
Join us to celebrate the marvels of wind and motion, compliments of Mother Nature.
We'll be flying kites and other wind-powered devices, learning about different energy sources and meteorology, plus hosting STEM-related activities to join in on.
This event is free and open to the public.
The first 100 people to check in will receive a complimentary kite.
NEW THIS YEAR!
Bring your kites to fly at Scissortail Park on Saturday, April 15 and we'll be awarding four different prizes throughout the day!
We'll have judges out on the Love's Travel Stops Great Lawn checking the skies to select one winner in each category. Each winner will receive a $50 Eat at Spark gift card!
Contest Categories
Highest Flying Kite at 10:30am
(All kite fliers need to be on the flat great lawn surface, not the hill for this contest.)
Biggest Kite at 11:30am
Most Colorful Kite at 12:30pm
Fanciest Character Kite at 1:30pm
We'll find the winning kite flyers to award the prizes on the spot and post their photos to social.
One winner per category. Kites can only win in one category to give more people a chance for a prize. No registration needed. All kite flyers eligible to win during the posted contest times. Prizes will be awarded directly to winners on the Great Lawn.
Performing on the Love's Travel Stops Stage
Peter Markes | 9:30 – 10:30am
Anklebiters | 10:45am – 12:15pm
DJ DeeRock | 12:30 – 2pm
Visit Festival Vendors
News9 Stormtracker
EightTwenty Solar Energy
First Americans Museum
Kaleidoscope Arts Face Painting and Henna
Oklahoma Renewable Energy Council
Oklahoma State Department of Education (STEM/Office of Curriculum and Instruction)
Oklahoma State University – OAIRE
Sam Noble Museum
Special thanks to our sponsors for helping this event take flight!
Griffin Media
Downtown Oklahoma City Partnership
Tinker Federal Credit Union
Ben Freeman | EightTwenty Solar Energy
First Liberty Bank
First United Bank
Fitzsimmons Architects
Wallace Design Collective
Interested in sponsoring this event? Visit HERE for more information.