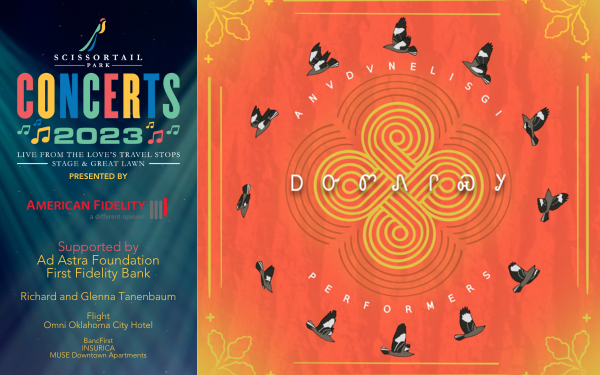 Scissortail Park Concerts presented by American Fidelity – Anvdvnelisgi ᎠᏅᏛᏁᎵᏍᎩ

Anvdvnelisgi ᎠᏅᏛᏁᎵᏍᎩ
Cherokee Language Concert
Hosted by First Americans Museum
Saturday, September 23 | 8pm
Love's Travel Stops Stage & Great Lawn
Experience select musical artists from the album, Anvdvnelisgi live at Scissortail Park!
Featuring Agalisiga Mackey, Monica Taylor, Ken Pomeroy & Kalyn Fay.
Hosted by Ace Greenwood from First Americans Museum.
Anvdvnelisgi (pronounced Ah Nuh Duh Nay Lees Gi), celebrates the Cherokee language in a modern world. The album is produced by Cherokee filmmaker and creator, Jeremy Charles and distributed by Horton Records.
ᎠᏅᏛᏁᎵᏍᎩ, which translates to Performers in English, is a groundbreaking Contemporary album of original music performed entirely in the Cherokee language, representing the diverse genres of Psychedelic, Metal, Folk/Americana, Country, Rock, Alternative Folk, Reggae, Pop and Hip Hop.
Bring your chairs and blankets out to the Love's Travel Stops Great Lawn for an amazing evening of live music in downtown OKC!
Scissortail Park Concerts presented by American Fidelity is supported by Ad Astra Foundation, First Fidelity Bank, Richard and Glenna Tanenbaum, Flight, Omni Oklahoma City Hotel, BancFirst, INSURICA, and MUSE Downtown Apartments.