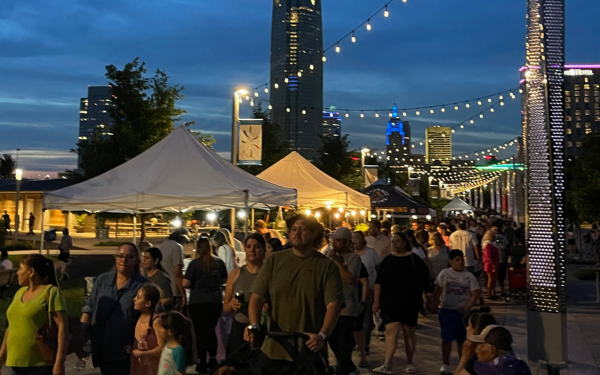 September Night Market
Friday, September 8 | 5:30-10pm
The Promenade, Upper Park
Join us as our popular Night Market begin again for the Fall. Support local Oklahoma small businesses and artisans by coming out to shop under the stars at Scissortail Park.
Live Music on the Love's Travel Stops Stage
5:30-7pm | Ray and the High Rollers
8-9:30pm | F1RSTHAND
September Vendors
1983
10th St Sneaks
Aguas El Oasis
Alike
All Nations Designs & More
Along the Lilacs
Anthem Brewing
Artesandina
Bella Vida Boutique
Britten & Bailey's
Broomswick Candle Co
Chaperus
Chichi and Zinny's Goodie
City and Stars
Cookie's Cookies Cakes & Candies
Core4 Brewing Co
Cuttingedge Puzzles
Dear Reverie
De la Tierra Mia
ELF Studio Art
Everlasting Links Jewelry
Farm Fresh Kids
Foxxwerks
Fryda's Art Souls
Gimme Sugar
Golden & Grace
Hank's Salsa Company
Heartland Pens
Highway Haven Boutique
Jasco Lighting
Ji Craft
Kelli Patrice
Kettle Popstars
Lindsey La Valle Art & Clay
Lizette Beauty Boutique
Lollipops Cake Co
Nai's Sweets
Nourished Roots
Peruviana Designs
Plant Wisdom Greenhouses
Plenty Mercantile
Pup Town
Redbud Tea and Apothecary
Ruth and Renee Ceramics
Sashay and Flounce
Skydance Brewing Co
Solid Cup Coffee
Southernfried Vintage
Sunny Girl Sundries
SweetArtFacePaint
Sweets By Karen
Tamale King
That's Mrs. Laser To You
The Plant Dudes
The Sassy Designs
Tia's Shop
Upper Echelon Socks
Wags, Whiskers and Beyond
WickedSick 3D
Wondervan Pops
Dining Options
SPARK in the Park
Food Trucks
Big Biang Theory
Came's Tacos y Más
David's Smoking Barbeque Ribs & Sauce
Freezing Cow
Hawaiian Snow
Kettle Treats
Lucid Bean Coffee
OAK Mobile Kitchen
Soul City Tacos LLC
Squeeze Me Lemonade
The Weekend Girl OKC
*Subject to change.