Experience Everything Happening in The Park.
Scissortail Park features a variety of engaging experiences and amenities within 70 urban acres, including ornamental gardens, woodlands, a lake, boathouse, children's playground, grand promenade, water features, outdoor roller rink, an enclosed dog park, interactive fountain, and much more. Your support helps us maintain this beautiful space For Everyone.
How Your Support Sustains Scissortail Park
Visitors Services
Scissortail Park Rangers welcome guests, lead tours, and provide public outreach about the Park and all our activities and events.
Activities and Events
Provide educational activities, field trips, and more for school children and guest programs for all ages and interests
Landscaping and Gardening
Allow us to hire and equip our horticulture team who keep the Park's 70-acre landscape healthy
Maintenance
Allow us to make repairs on the Park's infrastructure, including lighting, benches, trails, pathways, and play equipment
Custodial
Provide for the staff and supplies needed for trash removal, cleaning of restrooms and Park facilities
Scissortail Park Foundation Endowment
A strong endowment ensures Scissortail Park's long-term financial security and success as a beautiful, innovative, thriving urban oasis in Oklahoma City For Everyone
As a member of Scissortail Circle, you help advance our most important initiatives to sustain and support the Park. As one of our most committed partners, you will be recognized for your leadership with the following benefits:
SCISSORTAIL CIRCLE $2,500+
Invitation to behind-the-scenes opportunities
Invitation to exclusive hard-hat tour of the Lower Park while under construction
Recognition on Scissortail Park website
Invitation to annual Scissortail Circle exclusive event
Scissortail Park donors qualify for Scissortail Circle through the following annual gifts (excluding unpaid pledges and memberships):
Cash gifts
In-kind gifts
Gifts of property and other irrevocable gifts
Tree care – including pruning, inspections and treatment for disease and pests – by our expert Horticulture team is a year-round effort. The Trees For Everyone program will help support the growth and care of Scissortail's more than 1,000 trees. 
Supports a small tree of the Western Soapberry or Osage Orange species.
Supports a medium tree of the Eastern Redbud or Post Oak species.
Supports a large tree of the London Planetree or Loblolly Pine species.
Supports one of 113 large trees along the Promenade pathway of the Shumard Oak species.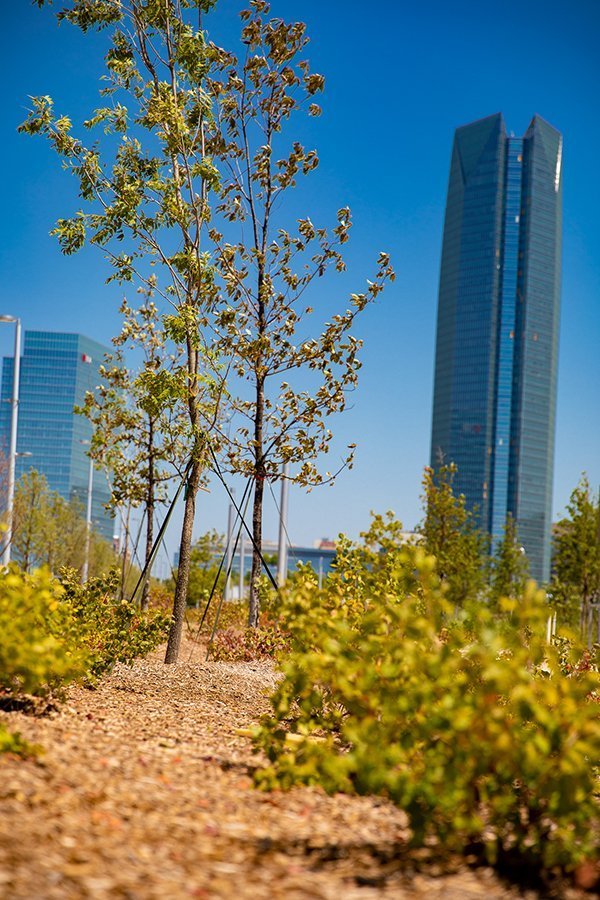 Commemorative seating is a wonderful way to honor or memorialize a loved one in Scissortail Park and is a unique gift to celebrate a birthday, anniversary, graduation, or milestone! When you participate in the commemorative seating program, you are helping to maintain Scissortail Park's more than 150 benches and seating amenities.
In recognition of gifts to the program, Scissortail Park Foundation installs a personalized plaque on a park bench of the donor's choosing. Commemorative seating will be maintained for the useful life of the named seating. If a commemorative bench becomes unsightly due to vandalism or instances of uncontrollable natural forces, or if it needs to be removed or relocated due to unforeseen construction, the Scissortail Park Foundation reserves the right to present the donor with options for repair and/or replacement.
COMMEMORATIVE SEATING $5,000
A commemorative bench plaque can be personalized with a message of the donor's choosing on a 7-inch by 2.5-inch weather-resistant aluminum plaque with room for up to two lines of text. When complete, the plaque is installed prominently on the bench front.
Corporate sponsors support Scissortail Park Foundation, a nonprofit organization that manages the Park, through event and activity sponsorship, brand engagement, and private venue rentals. In return, sponsors receive benefits and recognition opportunities that may be customized to each sponsor's marketing and philanthropic priorities.
BENEFITS AND RECOGNITION INCLUDES:
Onsite brand engagement with the potential to reach more than 10,000 guests on Scissortail Park's busiest weekend days
Employee engagement and volunteer opportunities
Private tours and presentations led by Scissortail staff 
Recognition across Scissortail Park communication channels, including print, electronic materials, and social media
Inclusion in Scissortail Park Foundation's annual donor listing displayed in the Park, visible to more than 600,000 annual guests
Scissortail Park offers an incredible platform for corporations seeking high-visibility sponsorships. Opportunities for collaboration and brand alignment include:
Brand Engagement and Venue Rentals 
Special Events 
Landscaping and Horticulture 
Family 
Youth 
Education 
Food