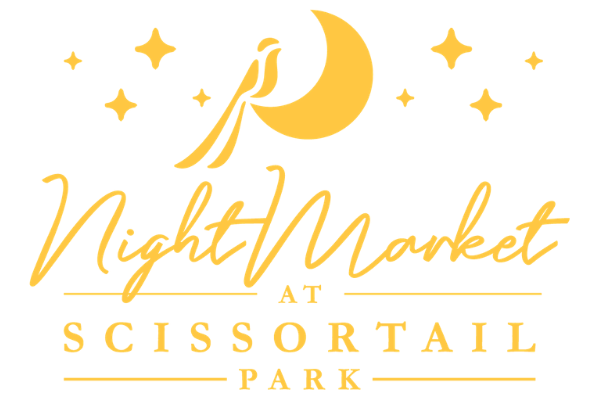 Check out our new Night Market at Scissortail Park!
Our monthly shopping event kicks off Friday, July 31 from 5:30pm – 9:30pm!
A juried collection of Oklahoma vendors will be set up and spaced along the 860-foot long Promenade.
The central walkway through Scissortail Park adorned with café lights, colorful decorative light fixtures, and white tents makes for a beautiful marketplace. Enjoy a relaxing night of shopping outside with room for social distancing!
Bar service, food trucks, music and photo ops complete the night out!
Live music by Stephen Salewon 6:30 – 8:30 and sets by DJ Derek Bowden on Friday, July 31.
Night Market at Scissortail Park shopping nights:
Friday, July 31 from 5:30pm – 9:30pm
Friday, August 28 from 5:30pm – 9:30pm
Friday, September 25 from 5:30pm – 9:30pm
Friday, October 16 from 5:30pm – 9:30pm
Friday, November 20 from 5:30pm – 9:30pm
Night Market | Friday, July 31 from 5:30pm - 9:30pm
Vendors along The Promenade
Beaver Street Good
Dust Bowl Tough
Felicia's Country Corner
H&M Pottery
J Noelle Boutique
Kettle Popstars
Krice Resin
Leftify
Lucky Lulu
Magnolias & Prayers Everything Alpaca
McKissick Beard & Mustache
Mozzie Style
Pink Buffalo Designs
Plenty Merchantile
Savoir Savon Apothicaire
Shoe Accent
Shop Rosemary
Simpson Shirt Co.
Southwest Silhouettes
Food Trucks along Oklahoma City Boulevard
11am – 4pm
11am – 10pm
All Time Burger & Bistro
L & M Lemonade
Cutie Pies Concession
Lucid Bean Coffe
5pm – 10pm
Tai-Okie
Big Biang Theory
Cowboys and Angels Chuck Wagon
Love's Travel Stops Stage & Great Lawn
6:30pm – 8:30pm – Stephen Salewon
Sets by DJ Derek Bowden
Bar Service provided by Double Shot Bar Services
Night Market COVID-19 Protocols:
Masks required for vendors.
Masks required for Scissortail Park staff and volunteers. 
Masks encouraged for shoppers. 
Hand washing stations and  extra hand sanitizer stations available.  
Wash/sanitize hands frequently while shopping. 
Avoid touching your eyes, nose and mouth. 
Maintain 6 feet between other shoppers and vendors when possible. 
Anyone who is feeling unwell should stay home. 

An inherent risk of exposure to COVID-19 exists in any public places where people are present. COVID-19 is an extremely contagious disease that can lead to severe illness and death. According to the Centers for Disease Control and Prevention, senior citizens and guests with medical conditions are especially vulnerable. 
By visiting Scissortail Park, you voluntarily assume all risks related to exposure of COVID-19. 
Interested in becoming a market vendor, complete an application at the link below.