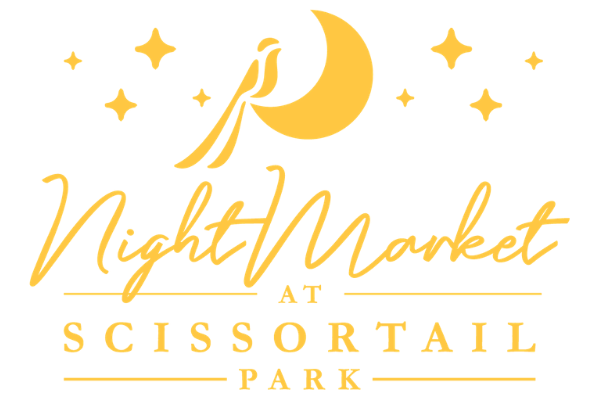 For this month's Night Market, vendors will be set up along the Promenade and across the Love's Travel Stops Great Lawn to provide additional space for people to appropriately social distance. We're asking participants to wear masks while in the shopping areas, inside the mobile boutiques, in bar service lines, and in the food truck lines.
Shoppers are asked to please observe the 6-foot social distance recommendations and bring their own masks to wear while participating so we can continue to bring these events to the community. 
"At Scissortail Park, we strive to offer our community safe, quality programming and events," said Maureen Heffernan, Scissortail Park Foundation CEO. "The Night Market was created to support local small businesses in an outdoor environment offering ample space to spread out and social distance. In order to continue to provide these types of programs at Scissortail Park, we are asking the community to assist us by adhering to the established guidelines."
Night Market at Scissortail Park shopping nights:
Friday, October 16 from 5:30pm – 9:30pm
with musical guest Jeremy Thomas Quartet
Friday, November 13 from 5:30pm – 9:30pm
with musical guest Drive
Music entertainment sponsored by TMobile.
Night Market Vendors | October 16
Adeline's
Alexandra Brodt Illustration
Amelia Island Soapery
Beaver Street Goods
BekahSometimes
BodySpyce Luxe & Candle Co.
Brent Umphlett Photography
Britten & Bailey's
City and Stars
Commonplace Books
Craig Proper Home Goods
Dallas Designs
Dotlizhi
Dust Bowl Tough
DVN Paintings
ELLADEN
Emmaline Rose Floral
GimmeSugar
Glassy Girls
Golden Mutt Jack
Goodies Unlimited
H & M Pottery
Hott Mess Creations
J Noelle Boutique
Kettle Popstars
Lindsey La Valle Art + Clay
Local Lather
Love Olive & Co
Lucky Lulu
Make & Bake Trade
Maria Victoria – Giselle Leon
McKissick Beard & Moustache
Mollycoddled Hash Slinger
MyVision' Art by Toya
Nine on 33rd
Nuvo Home
Oklahoma Fosters
Opp + Att
Pet Wants Edmond
Plant People
PLENTY Mercantile
Positive Pearls
Richie Hippie
Sage & Elm Apothecary
Saltwater Cottage
Salty Sisters Designs
Sand Plum Soul Designs
Shop Lawson
Shop Rosemary
Southwest Silhouettes
Stitch Wallets
Sunny Sky Designs
Sweet Mary Jane
The Brooklyn Collective
The Crooked Wick
The Market at Commonplace
The Rigdons
Tinsel Fairy Hair
Urban Elm Co.
Interested in becoming a market vendor, complete an application at the link below. 
Please Note: The volume of applications has resulted in a new communication process.
You will only be contacted by the Night Market team if you application has been accepted.
Thank  you for your interest in the Night Market at Scissortail Park.