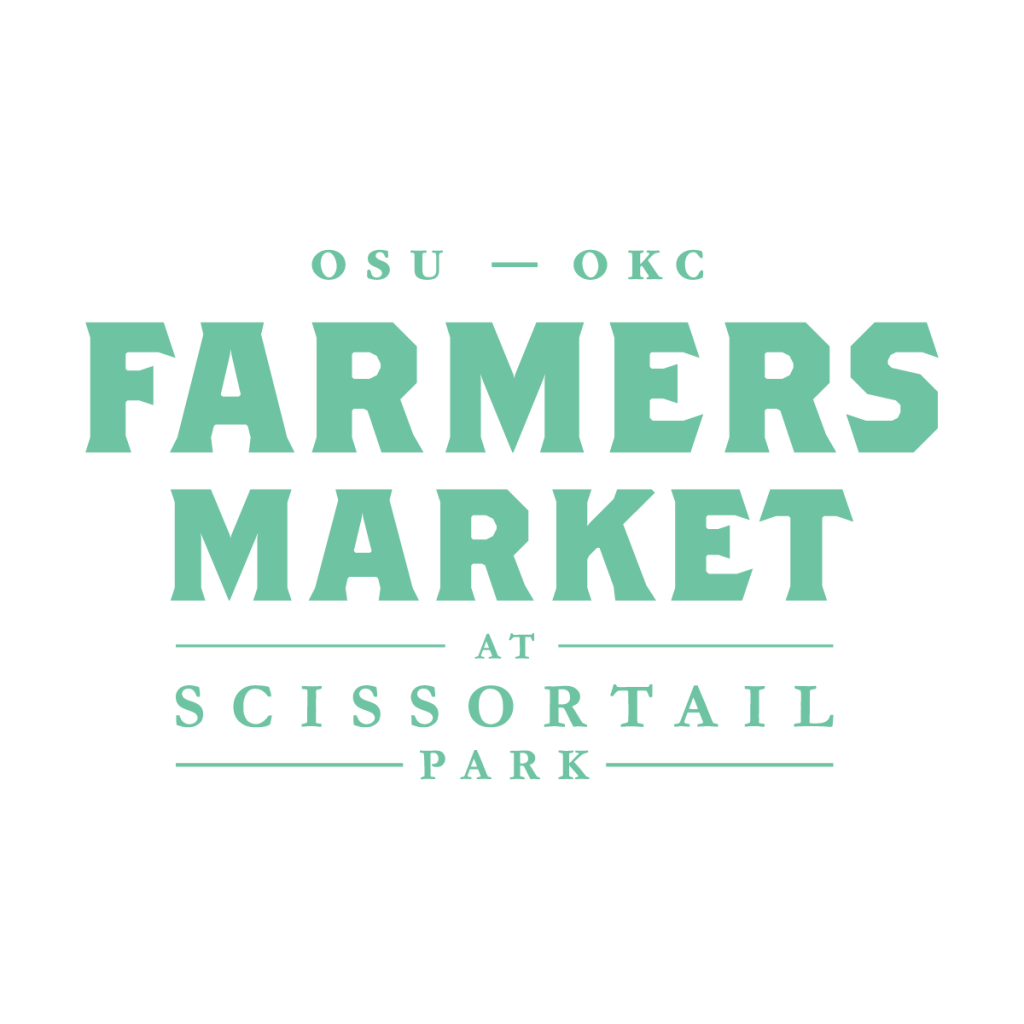 The Farmers Market at Oklahoma State University-Oklahoma City will merge with Scissortail Park spring 2020 to create a destination Saturday market in the heart of downtown.
The move from the OSU-OKC campus to Scissortail Park allows the market to expand exponentially and provide a more robust and enriching experience for visitors.
Plans call not only for growth in the number of vendors, but the regular addition of performers, food demonstrations and seasonal activities to make the market into a weekly experience all guests can enjoy. 
The Scissortail market opening on Saturday, April 4, 2020 will be located at the northeast corner of Scissortail Park, adjacent to the performance stage. The existing market on the OSU-OKC campus will remain open through the end of February, 2020.
Stay tuned for more details and information about this exciting new partnership coming to downtown OKC!
FARMERS MARKET NEWS
Sign up to receive the latest news and information for the OSU-OKC Farmers Market at Scissortail Park!
VENDOR APPLICATION
Interested in being a vendor at the OSU-OKC Farmers Market at Scissortail Park?
Find more information and the application form below. 
We are committed to creating a top-quality, destination Farmers Market for all of Oklahoma City. This partnership with OSU-OKC allows Scissortail Park to provide downtown Oklahoma City with fresh, Made in Oklahoma produce and goods while supporting local farmers, producers, and artisans. Oklahoma has an incredible network of markets across the state to support shopping locally. To see information about these markets around the state, visit http://bit.ly/MarketsinOK
Farmers Market Vendors at Scissortail Park
580BEEF
  Beef jerky and raw beef products
A + H Urban Farm
  Oklahoma grown produce
Acadian Family Farm
  All certified organic seasonal vegetables and sweet potatoes
Altruist
  Handmade jewelry and accessories
ALZ Hotdogs & More
  Sandwiches, nachos, fresh-squeezed lemonade, cherry limeade, teas, fountain drinks
Awesome Acres Pacas & Pyrs
  Made in Oklahoma yarn and alpaca fiber products
Bavarian Pretzels
  Authentic German pretzels, breads, pastries, treats, and snacks
BekahSometimes
  Crystals, minerals, jewelry, stones, crystal plant critters, sage, homemade natural incense, and dried flowers
Bent Tree Farm
Bedding plants, Begonias, Ipomoea, periwinkles, impatiens, petunias, dahlia,  dianthus, zinnias
Burrows Family Farm
  Freshly grown vegetables, seedling plants in the spring
Canadian Valley Farms
  Produce, eggs, pork, beef
Coldiron Cattle Company Ranch
  Natural Black Angus Beef
COOP Ale Works
  Craft beer, wine, COOP Ale Works merchandise, bottled water
Crows Vegetables and Greenhouses
  Wide variety of vegetables, bedding plants, hanging baskets, and fruits
David's Smokn Barbeque
  Homemade barbeque sauce
Goodies Unlimited
  Handmade, all-natural soap, lotions, balms, face masks, lip balms, gloss and scrubs, essential oils, body butter and more
Hall and Doak's Farm
  Tomato, pepper, herb, and bedding plant starts; cut flowers, tomatoes, peppers, assorted vegetables
Happy Tails Tees & Animal Rescue
  T-shirts to support our animal rescue
Heritage Grains Bread Company
  Sourdough bread
i2U Culinary Solutions
  Wellness meals
John's Farm
  Organic beef
Juicy Micros
  Micro greens
Karamella Toffee Company
  Ridiculously good toffee!
Kayterra Farms
  Jams, pickles, relish
Kettle Popstars
  Kettle corn
La Cocina de Gaby
  Ceviche shrimp, fish
Little Red Barn Orchard
  Fresh produce and fruit 
Magick Tree/Day Dreams
  Handmade soaps and more
ModernGlitz Jewelry
  Handcrafted Druzy jewelry
Ms. Nettie's Herbs, Spices & Teas
  Herbs, spices, teas, and mixes
Mustang Creek Alpacas
  Alpaca fleece products: socks, dryer balls, cat toys, bird nesting balls
Natures Harmony Farms
  Herbs, lettuce bowls, herb bowls, houseplants, succulent bowls, healing plants, seasonal vegetables and fruits, MIO natural peanut butter, and spun honey
Nourished Roots Company
  Handmade spice blends and seasonings
Olfactory Kittens
  100% soy candles
Payne County Beef Company
  Wagyu: ribeye, filet, strip, sirloin, bratwursts, sausage, ground beef
Pet Wants Edmond
  Housemade dog treats and Spaw products, all-natural dog chews, cat treats
Petal Pusher Farms
  Cut flowers and floral arrangements
Pie Prerogative
  Handmade fruit and cream pies
Plant Wisdom Garden Center
  Herbs, vegetable plants, succulents, pottery, tropicals
Prairie Artisan Ales
  Beer, T-shirts, hats
Prairie Wind Nursery
  Herbs, perennials, hanging basket, annuals, grasses
Royalty Tees & Apparel
  T-shirts and artwork
SA Stained Glass Creations
  Stained glass sun catchers, wind chimes, night lights, indoor/outdoor plant stakes, ornaments
Sage & Elm Apothecary
  Plant based artisanal bath, home and pet products 
Savoir Savon Apothicaire
  Soap, bubble bars, body butter, mens shaving products, non-toxic bath/body products
Signature Bakery
  Croissants, pies, cake, sourdough bread
Struggle Bus
  Art, t-shirts, hats, koozies
Sweet Spirit Foods
  BBQ sauce, salsa, relish, peppers, pickles, olives, jams, jellies, fruit butters-condiments
Swinging K Farm
  Goat milk soap, lotion, and balms
The Looney Farm
  Produce: lettuce, other greens, root vegetables, seasonal fruits, and other various vegetables
The Winn Garden
  Vegetables: leafy greens, hot pepper, green onion, herbs; Fruits: Asian pears, jujube
Tinroof Studios
  Glass jewelry, home decor, and garden art
True Livin Farms
  Produce
Tsunami Riot Designs
  Handmade jewelry and talismans
Ward Family Farms
  Chicken, beef, eggs, mixed produce, and handmade soap
Wildberry Bakehouse
  Macarons, cookies, baked goods
Wildhorse Canyon Farms
  Wine, fruit spread, wine jelly
Wondervan Pops
  All-natural fruit popsicles and handmade ice cream bars
Workin the Plank
  Handmade cutting boards, serving boards, coasters, wood conditioner
YumHaus
  BBQ brisket, pork, and chicken