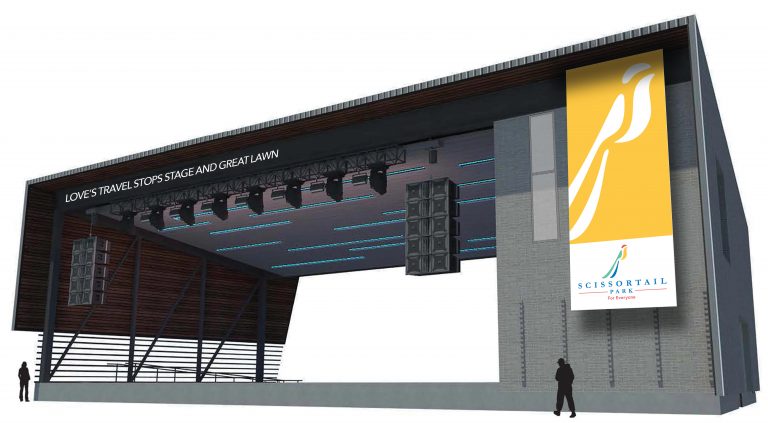 Naming was made at park's first major gift ceremony
The Stage and Great Lawn at Scissortail Park, scheduled to open this fall in Oklahoma City, will be named the Love's Travel Stops Stage and Great Lawn in recognition of a major gift from the Love Family. The $2 million gift will fund ongoing maintenance of the park and support stage productions in the future.
The six-acre Love's Travel Stops Stage and Great Lawn is a first-class outdoor performance venue and features a prominent stage with green room and capacity for small (up to 1,500 guests), medium (up to 10,000 guests) and large (up to 15,000 guests) events, including concerts, outdoor movies, corporate events and symphonic performances.
The venue can also accommodate festivals for up to 250,000 guests over multiple days and is adjacent to the future MAPS 3 Convention Center and Omni Luxury Hotel.
"On behalf of my family, I'm excited to announce this gift, which will help launch and maintain a new premier performance venue for Oklahomans to enjoy for generations to come," said Jenny Love Meyer, vice president of communications for Love's Travel Stops and Country Stores. "This gift is our way of saying 'thank you' to Oklahoma City for all the support they've shown our family and our business throughout the years."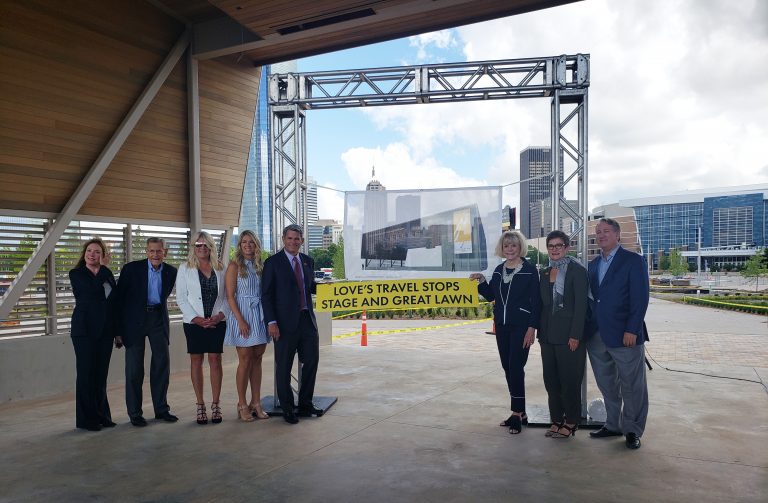 "We are thrilled to have the support of the Love Family at Scissortail Park," said Maureen Heffernan, chief executive officer of Scissortail Park Foundation and the Myriad Gardens Foundation. "Their gift is transformational. A brand as strong as Love's Travel Stops elevates the Park, and we hope will encourage other Oklahoma corporations to give so we can make Scissortail Park one of the best programmed parks in the country."
Jim Tolbert, chairman of the Scissortail Park Board, added that the Loves' gift is a wonderful example of community corporate support.
"On behalf of the Board, I want to thank the Loves for their generous gift to name the Stage and Great Lawn," he said. "A naming gift of this kind serves to enhance the quality of the Park for everyone."
Scissortail Park is a 70-acre public space opening this fall which was designed by Hargreaves Associates, one of the foremost landscape architecture and planning firms in the world. Hans and Torrey Butzer of Butzer Architects and Urbanism designed all the buildings in the Park, including the stage.
Located on the south side of Myriad Botanical Gardens, Scissortail Park is a MAPS 3 Project. It continues to the shore of the Oklahoma River and features a number of engaging experiences for attendees including ornamental gardens and woodlands, a 3.7-acre lake, children's playground and water feature, café, boathouse, stage, seasonal outdoor roller rink, dog park and interactive fountain.
Scissortail Park Foundation is an independent, 501 (c)(3) nonprofit organization that manages the Park which was made possible by the citizens of Oklahoma City who have contributed a penny sales tax to fund its construction. The Foundation raises funds to support the majority of the Park's operating revenue and to enhance its legacy for everyone while helping to create a destination in the heart of downtown Oklahoma City.