Scissortail Park´s annual free
concert series is back!

Presented by

Supported by
First Fidelity Bank
Ad Astra Foundation
Richard and Glenna Tanenbaum
Social Capital
Heartland
Omni Oklahoma City Hotel
Oklahoma Shirt Company
Insurica
BancFirst
Flight Agency
Downtown Oklahoma City Partnership
Since its Grand Opening on September 2019, Scissortail Park has become the most popular outdoor venue in Oklahoma City! A unique destination centered on health, wellness, music, environmental education and entertainment. A great space where the nature lovers can explore the magnificent flora along its pathways and enjoy seeing the diverse animals and birds that this green refuge offers to them.
Scissortail Park is the only venue in Oklahoma City that offers to the community, a place to gather and enjoy great music within the urban landscape at no cost.
As we move into the summer season, we are proud to bring to the Okie community several artists who will perform live from the Love's Travel Stops Stage!
Don´t miss the chance to experience the energy of a crowd at LeAnn Rimes' concert featuring her new album, god´s work.  And if you are into Latin Rhythms, you can´t miss the Mezclave Latin Jazz &
Salsa performance that combines the Afro-Caribbean harmonies with the Latin Jazz style. Rounding out June, we will have the beautiful sounds of the Oklahoma Philharmonic Society taking the stage with a variety of classics and other orchestral pieces. 
So, bring your lawn chairs, drinks and your loved ones and enjoy a great evening at any of our concerts this Summer!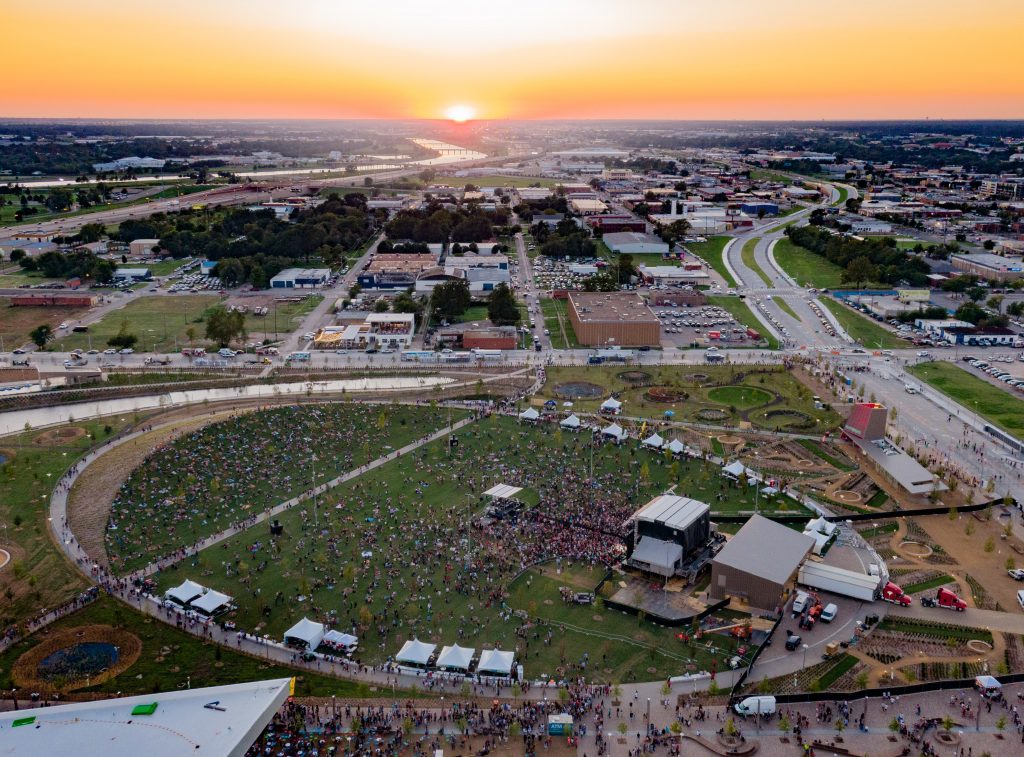 LeAnn Rimes
Saturday, May 21 | 7pm
Love's Travel Stops Stage and Great Lawn 
LeAnn Rimes is an international multi-platinum selling acclaimed singer and ASCAP award-winning songwriter who has sold more than 48 million units globally, won 2 Grammy® Awards; 12 Billboard Music Awards; 2 World Music Awards; 3 Academy of Country Music Awards; 2 Country Music Association Awards and one Dove Award. At 14, Rimes won "Best New Artist" making her the youngest solo artist to take home a Grammy® Award, and at 15, she became the first country artist to win "Artist of the Year" at the Billboard Music Awards.

In 2020, Rimes shined the brightest and won season four of FOX's The Masked Singer. Most recently, she served as the inspiration judge on the Discovery+ competition series, Meet Your Makers Showdown, which started streaming November 2021.
Mezclave Latin Jazz & Salsa
Sunday, June 5 | 7pm
Love's Travel Stops Stage and Great Lawn
The eight-person group combines the rhythms of Afro-Caribbean salsa music with jazz harmonies and improvisations to produce the Latin Jazz hybrid style. The ensemble gets the name "Mezclave" from "mezcla," which is Spanish for "mixture," and "clave," the Afro-Caribbean term for the rhythm of salsa music.
Mezclave has been performing for over 20 years under the direction of bassist and composer Edwin Canito Garcia.
Their performances have included NYC, Dallas, Oklahoma City, Nashville, Tulsa and Northwest Arkansas.
Oklahoma City Philharmonic
Alexander Mickelthwate, Music Director
Sunday, June 12 | 7pm
Love's Travel Stops Stage and Great Lawn 
The Oklahoma City Philharmonic was founded in 1988 and celebrates over 30 years of beautiful music in OKC. Under the direction of Alexander Mickelthwate, the orchestra performs Classics, orchestral Pops, and Discovery Family concerts, as well a variety of community engagements.
The Oklahoma Philharmonic Society, Inc. exists to provide inspiration and joy for the community through orchestral music.
Their vision is to enrich the lives of those we touch, to enhance the cultural life of the community, to educate future generations about the value of music, to entertain audiences, to elevate the quality of every performance, and to serve as a leader for positive community growth through the performance of excellent symphonic music, and to cooperate with other arts agencies for the betterment of our community.
July – September Concert Announcements Coming Soon!
Sponsorship opportunities are still available to support the Scissortail Park Concerts 2022 series.
Please contact Jayme Phillips, Director of Development at jphillips@scissortailpark.org 
or 405.445.6263 for more information.