Yes! 2022 was a great year for Scissortail Park! Not only did the Park double in size with the opening of the Lower Park, but we also maintained a robust calendar featuring many returning favorites and a host of new events and programs to provide a year of fun FOR EVERYONE!
Here are some of the best events that 2022 brought us. Thank you for your continuing support that helps us to keep growing strong.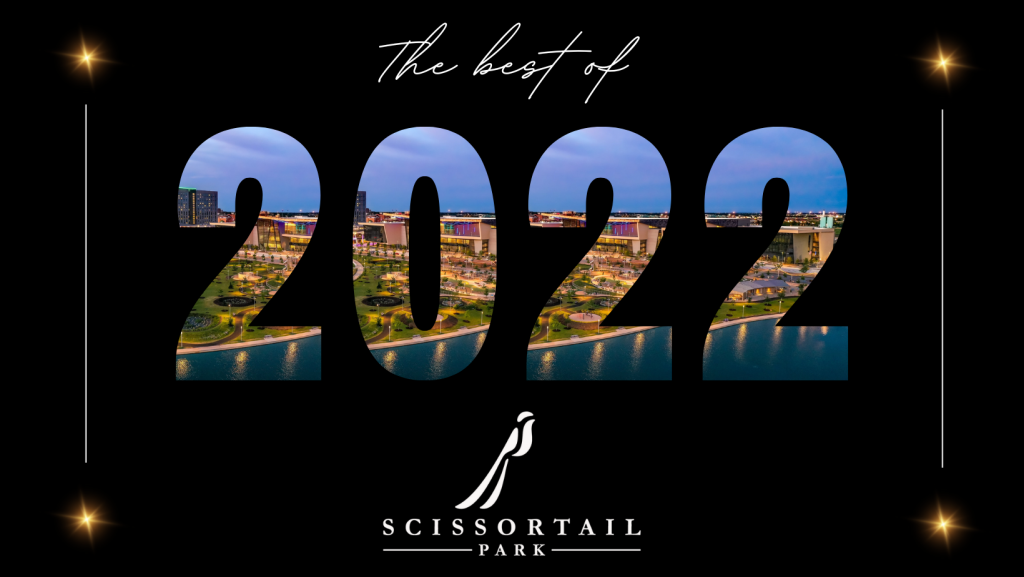 The Farmers Market at Scissortail Park sponsored by Bank of Oklahoma and Blue Cross Blue Shield of Oklahoma has been one of the most popular events among the OKC Community.  It is an ALL IN ONE event, since you can shop from all local Oklahoma farmers, producers, and artisans in the heart of downtown Oklahoma City but also you can enjoy live music, fitness classes, Park Ranger programs as well as composting demonstrations and other horticulture & farming information for FREE!  
Don´t forget to make us part of your Saturday morning routine to pick up the freshest produce, meats, poultry, honey, coffee, spices, baked goods and more! 
SEE YOU IN APRIL 2023!  
The Sky Rink sits under the Event Pavilion in the southeast corner of the park near the Skydance Bridge and features nearly 5,000 square feet of skating surface. Both traditional quad skates and inline skates are welcome and available to rent. Your admission includes quad skate rentals! Inline skates can even be taken outside of the rink and used throughout the park grounds. 
Scissortail Concerts Series
Live from the Love´s Travel Stops Stage & Great Lawn
Scissortail Park Concerts 2022 presented by American Fidelity brought the best FREE entertainment and live music, featuring great artists, musicians and singers from around the world!  This year we had the international multiplatinum-selling singer and award-winning artist LeAnn Rimes, Grammy nominated Amythyst Kia, Afro-Caribbean Salsa group Mezclave, Oklahoma City´s own surf-pop-rock band Husbands, The Scintillating Sounds of India featuring Ustad Shahid Parvez Khan & Vidushi Vijayalaskhmi Lalgudi, and last but not least the OKC Philharmonic entertaining Park guests for two concerts in 2022.
 Our concert series was made possible thanks to the generous support of our sponsors. Scissortail Park Concerts 2022 presented by American Fidelity are supported by First Fidelity Bank, Ad Astra Foundation, Richard and Glenna Tanenbaum, Heartland, Omni Oklahoma City Hotel, Oklahoma Shirt Company, Insurica, BancFirst, Flight Agency, and Downtown Oklahoma City Partnership.
Don´t miss our Next Concert Series in 2023!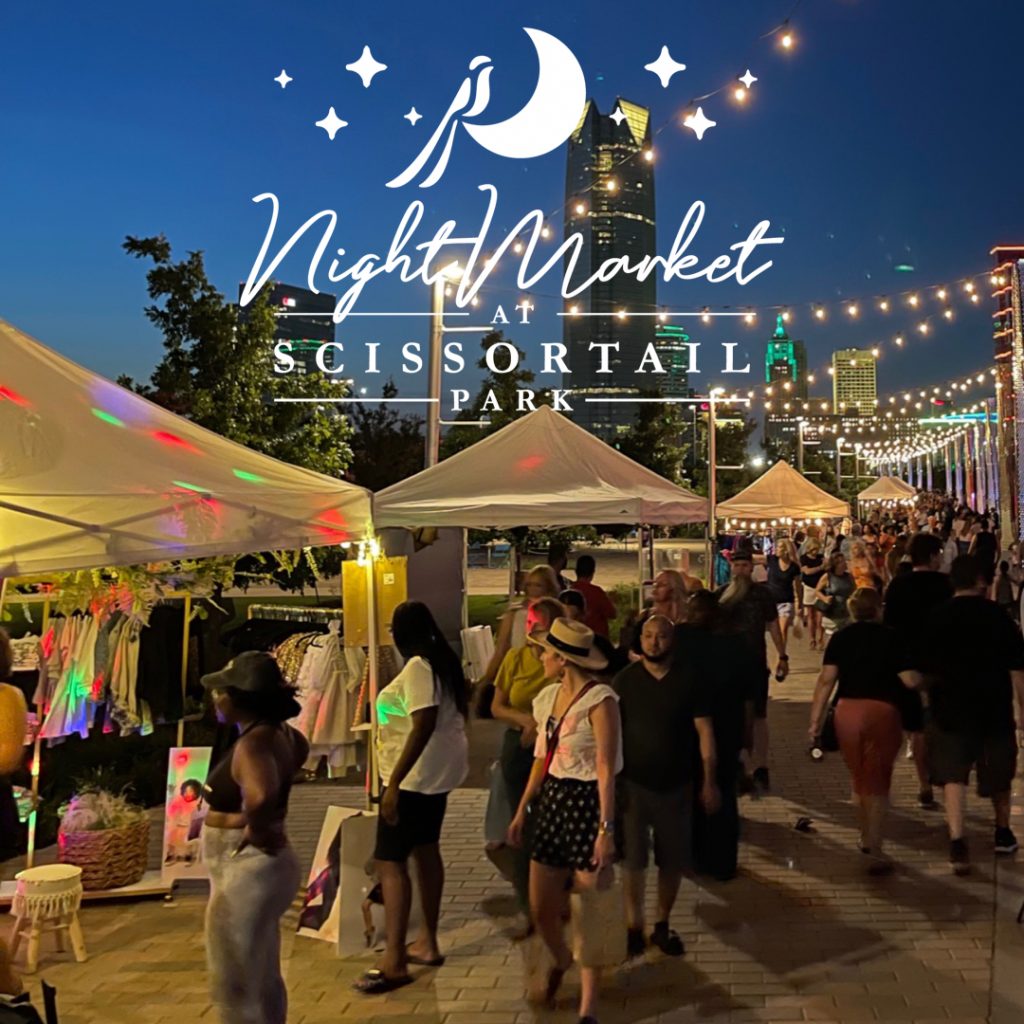 The Night Market is one of the most popular events of the year. Thousands of people shop local during the summer along the Promenade and enjoy the great vibes. The Market is also known for bringing great entertainment to the attendees with music bands, movies, dancers and the best Food Trucks with a variety of food, snacks, drinks and desserts.
Here you can find local Oklahoma small shops, businesses, crafters, & entrepreneurs,  featuring products like gifts, jewelry, home décor, food, candles, fashion, bath & beauty products, plants and more!
See you in April 2023! 
Our Park Rangers are the eyes and ears of the park – but did you know they also lead most of our guest services efforts and educational programming?
Our Park Rangers (and many other team members) are experts in beekeeping and pollination, composting, wildlife conservation, and fishing. They give park tours, lead field trips, and set up many educational events for the public.
"Bees and Beekeeping", "Buggin' Out", "Take Some, Leave Some", "B.A.R.K. Ranger Class" and fishing events are some of the most popular events.  
If you are interested in Park Ranger programs check out our calendar and stay tuned for our 2023 events. Follow us on our social media (@scissortailpark) and on our website at: https://scissortailpark.org/calendar/
The New Lower Park Opening & Sports Courts
 The most exciting event of the year was for sure the opening of the Lower Park and Sports Courts! We kicked off the celebration with a festive parade full of music and dance, and an amazing concert by the Oklahoma City Philharmonic. "Scissortail Park Takes Flight," included guided tours, children's programming, music, dance, health and wellness activities and a great inauguration of the sports courts with Rumble, the Bison from the Oklahoma City Thunder and professional athletes.
The newly-completed portion of Scissortail Park, which nearly doubled the size of the Park to 70 acres, features two basketball courts, a soccer field, futsal court, and four pickleball courts, as well as a sports pavilion and small performance area. The Nature Playground provides shady spots for children and families to interact with natural materials like boulders, logs, and sand, providing endless opportunities for creative play.
Holiday Lights, Union Station Illumination and
'Tis the Season Market.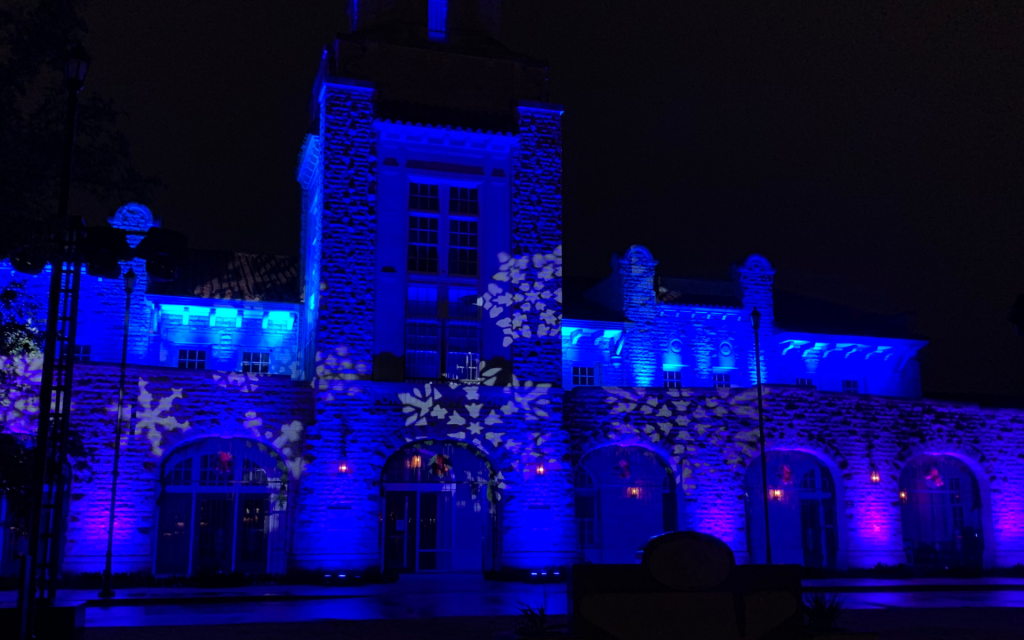 During the 2022 Holiday Season, Scissortail Park was a hot spot to spend time with family and friends.  The Park displayed beautiful paths of luminaries, a 40ft. holiday tree and an amazing lights and music show at Union Station. Illumination is a free holiday experience that transforms the historic station into a festive show of synchronized lights and holiday music.
Scissortail Park also offered free golf cart tours for guests with limited mobility and seniors so no one was left out from enjoying the beautiful lights on display. 
The 'Tis the Season Market is a great way to support local businesses and artisans. It is also a fun way to do your Christmas gift shopping while enjoying great holiday performances on the Love's Travel Stops Stage and indulging yourself with a cup of hot cocoa from our Hot Cocoa Cottage.
The holiday season was merry and bright thanks to our sponsors Express Employment International, OG&E, SSM St. Anthony's Hospital, Toucan Productions, Tyler Media, Arvest, Crowe & Dunlevy, Omni Oklahoma City Hotel, Anonymous, BancFirst, BC Clark, First United Bank, and JPMorgan Chase. Additional grant support was also provided by Oklahoma Arts Council and National Endowment for the Arts.
Do not miss these awesome Scissortail activities during the holidays next year!