'Tis the Season is sponsored by
Express Employment International
OG&E
SSM St. Anthony's Hospital
Toucan Productions
Tyler Media
Arvest
Crowe & Dunlevy
Omni Oklahoma City Hotel
Anonymous
BancFirst
BC Clark
First United Bank
JPMorgan Chase
Additional grant support from
Oklahoma Arts Council and
National Endowment for the Arts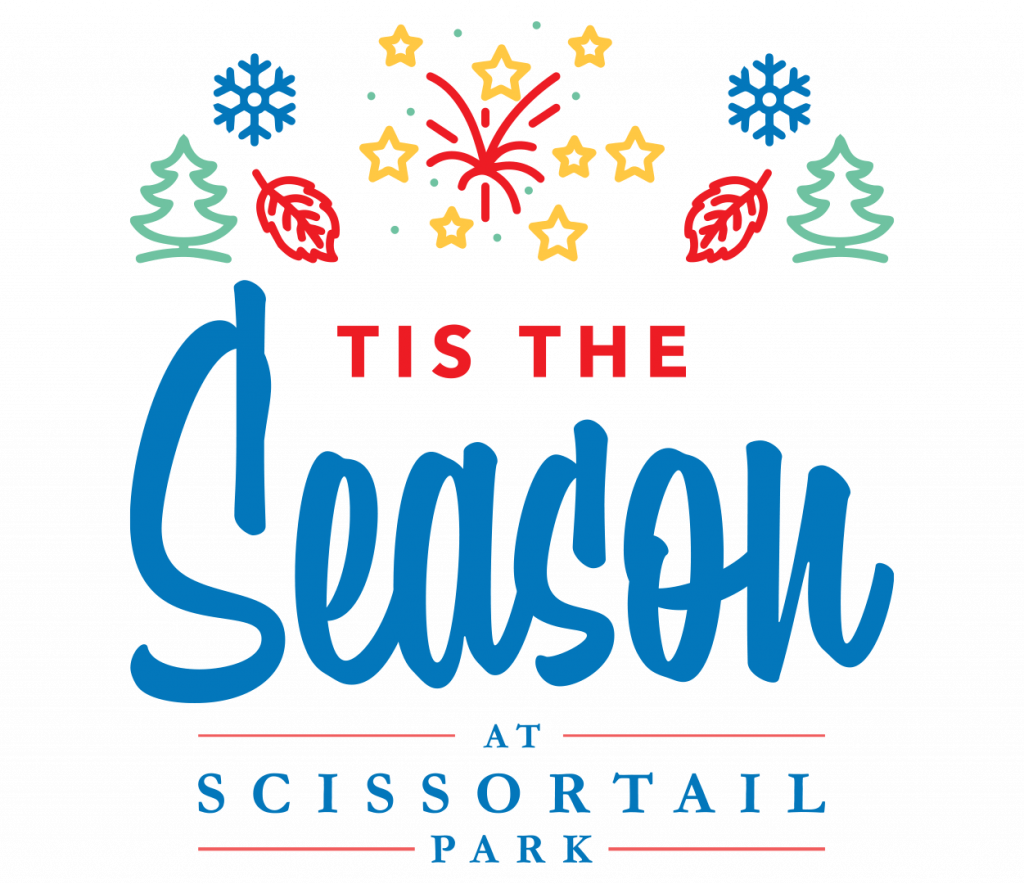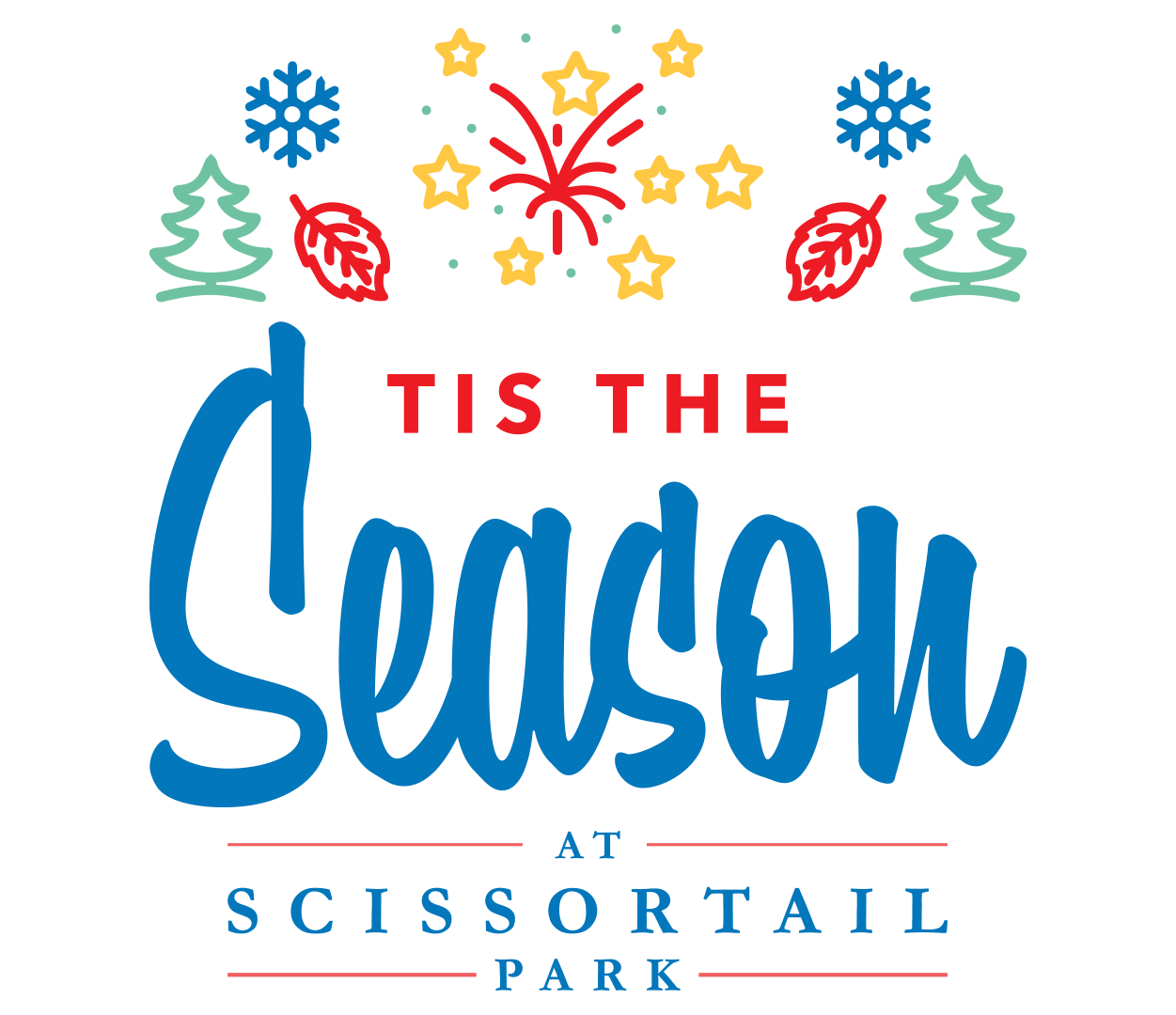 Union Station Illumination
Friday, November 25 – Sunday, January 1
6 – 10pm nightly
The FREE holiday experience transforms historic Union Station with a festive display of synchronized lights and music for everyone to enjoy.
Enjoy the special recording of 'Twas the Night Before Christmas by OKC Mayor David Holt with synchronized lights and music starting at 6:00pm nightly and repeating every half hour until 10:00pm.
Union Station Illumination is ongoing from Friday, November 25 through Sunday, January 1.
Holiday Lights
Friday, November 25 – Sunday, January 1
6 – 10pm nightly
Take a break from the busy season to enjoy a beautiful evening stroll to see the festive lights throughout Scissortail Park.
See paths of luminaries, our 40-foot holiday tree, giant menorah, Cocoa Cottage and Village, and more across the 70-acre Park.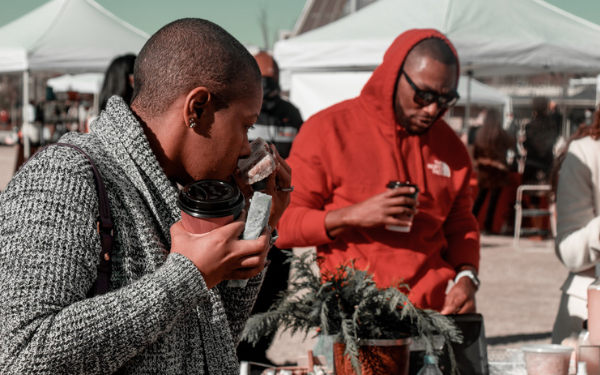 'Tis the Season Market
Saturday, December 3 | 12 – 7pm
The Promenade, Upper Park
Shop for everyone on your list and support local businesses and artisans set up along The Promenade. Enjoy shopping, live music, and holiday performances on the Love's Travel Stops Stage and Great Lawn.
Holiday Wreath Sales
Saturday, December 3 | 12 – 7pm
'Tis the Season Market, Upper Park
A symbol of health, joy, and peace and made from evergreens that represent long life, natural wreaths are a beautiful and sustainable holiday tradition.
This winter, find your fresh greenery décor at Scissortail Park! Wreaths for sale will vary in size and price, and some will be plain and others will be decorated. When kept indoors, they will last about 3 weeks with proper care.
Visits and photos are free to guests.
Please limit time with Santa to 3 minutes per guest.
Donations to Scissortail Park appreciated.
Must be in line 30 minutes prior to end of event time.
FREE Visits with Santa and Friends

Saturday, December 3
Santa & Mrs. Claus | 12 – 7pm
The Grinch & Cindy Lou Who | 11:30am – 2:30pm
Sugar Plum Fairy & Snow Globe Ballerina | 3 – 6pm
Santa
Saturday, December 10 | 9am – 1pm
Santa 
Saturday, December 17 | 4 – 7pm
Get your free photos with Santa at Scissortail Park. Santa's throne will be set up near the Cocoa Cottage along The Promenade north of the Picnic Pavilion. Free and open to the public. 
Merry Member Only Event
Santa and Mrs. Claus
Sunday, December 11 | 9am – 1pm
Must show physical or digital membership for line entry. 

To purchase a membership in advance visit scissortailpark.org/become-a-member
Holiday Hoops
Wednesday, December 14 | 5:30 – 7:30pm
Thunder Community Court, Lower Park
Cost is $5 per person to enter any or all of the following events:
5:30pm – 3-on-3 Basketball Tournament
(Bring a team, or we can match you with a group on site!)
6:30pm – Free Throw Competition
7:00pm – Santa Slam Dunk Contest
(Must be in costume or wearing a Santa hat)

All participants must be at least 13 years of age. All participants must check in at the Thunder Community Court by 5:15pm on Wednesday, December 14. 
Prizes will be awarded to the winners and a food truck will be available.
Cocoa Cottage
December 2 – 16 | 5-9pm Fridays – Sundays  
December 17 – January 1 | 4-10pm daily
(Closed from December 21 – 23 due to weather, and on December 24 & 25 for the holidays.)
North of the Picnic Pavilion, Upper Park
Enjoy coffee, hot cocoa, and other holiday treats at our special Cocoa Cottage located along The Promenade north of the Picnic Trellises.
HOW TO PLAY
Find the nine (9) Gingerbread People cutouts around Scissortail Lower Park in any order.
The scavenger hunt area is in the Lower Park from the Soccer Pitch to the Thunder Community Court basketball courts. 
Record each Clue Word in the spaces below.
Unscramble the Clue Words to form a famous song lyric often sung around the holidays.
Guess the character the song is about. 
Complete the entry form at the end for a chance to win a birthday party rental from Scissortail Park.
Have fun!
FREE Gingerbread Scavenger Hunt

Self-Guided Family Activity
December 2 – January 1
We have a new Gingerbread Scavenger Hunt adventure at Scissortail Park! 
This year's scavenger hunt area is in the Lower Park from the new Soccer Pitch (South Walker and SW 10th Street) to the Thunder Community Court basketball courts (SW 10th Street and South Harvey Avenue).
You can pick up a paper game card from the Sports Pavilion during their open hours or follow the link below to the online game card.
Sports Pavilion Winter Hours
Tuesday-Friday | 5-8pm
Saturday & Sunday | 1-5pm
Visit the Hub Cap Holiday Tree

December 6 – January 1
Songbird Plaza, Lower Park
This special addition to our 'Tis the Season holiday display was created by Oklahoma City artist, Gabriel Friedman.
Located in Songbird Plaza in the Lower Park area, this custom-designed holiday tree honors and celebrates the section of Oklahoma City formerly known as "Hub Cap Alley." For decades, South Robinson Avenue was home to a number of automobile salvage and parts businesses.
The Hub Cap Tree is sponsored by Scissortail Park Foundation.
Guests can enjoy all of our holiday lights and décor through Sunday, January 1, 2023.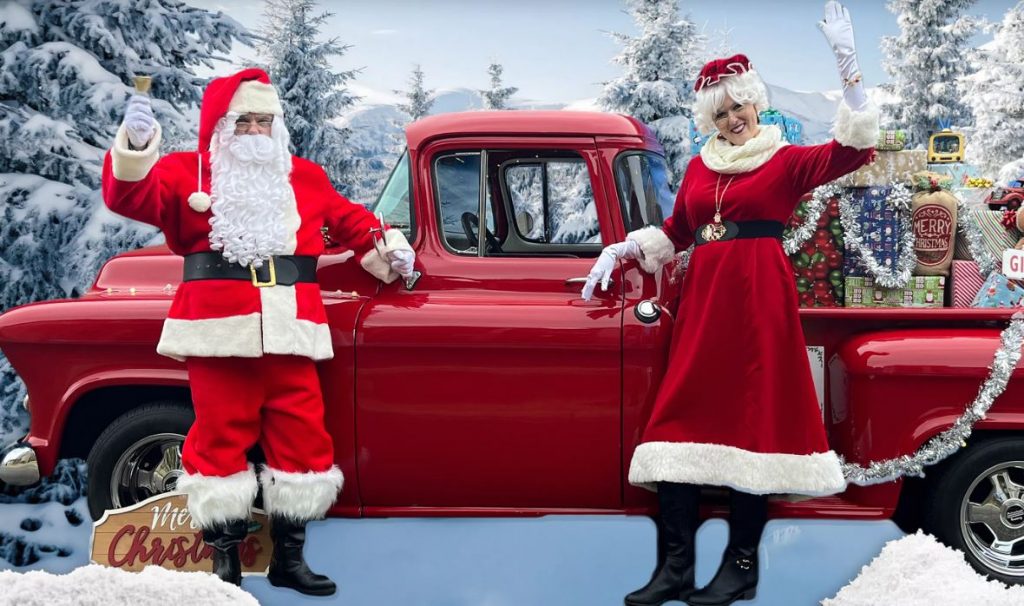 Join The Clauses for a unique vintage photo opportunity this Christmas season. This opportunity includes professional photos with the "Cruisin' with the Clauses" 1955 Chevy pickup. The experience also includes a meeting with the Clauses and a temporary download link to all the high-res photos from their photographer.
Cruisin' with the Clauses
A vintage Santa experience
Friday, December 16 | 7-10pm
Cocoa Cottage, Upper Park
(500 South Robinson Avenue)
Sunday, December 11 | 6-9pm
Sunday, December 18 | 6-9pm
At the Hub Cap Holiday Tree
Songbird Plaza, Lower Park
(1423 South Robinson Avenue)
$35 photo package
USB thumb drive with a copy of the photos, is $5.
For more information, visit https://www.cruisinwiththeclauses.com/
A portion of the proceeds from photo sales benefits Scissortail Park Foundation.